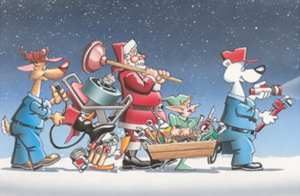 Cass Plumbing, Tampa's #1 go to plumber, would like to take this time and thank the people and businesses that have trusted us with their plumbing for over 2 decades.
We at Cass Plumbing understand how vital a plumbing system is to a home or business. We thank all of the people and businesses in Tampa, St Petersburg, Clearwater, Brandon and surrounding areas for making us one of the biggest plumbing companies in the Tampa region. Cass Plumbing was built by Master Plumber, David Cass, and has prospered throughout the years because of the morals, traditions & values that were instilled into him by his father Dave and mother Carole. This culture runs through Cass Plumbing every day.
Dave Cass Sr. is going to be 90 years young in 2023, and if you have ever had the pleasure of meeting him or talking to him on the phone you will quickly discover he has a mind as sharp and a 30 year old coupled with the curiosity of a 15 year old. Dave Cass Sr. is the man behind all of the innovative promotions and marketing of Cass Plumbing. He's actually on the Internet doing research and reading more than a college student. His curiosity and eagerness to learn is unmatched by anyone you will ever meet. This is what keeps him so young and active.
It's Really True!
It's really true, when your name is on the company, you care a little more. This is the way we feel at Cass Plumbing, our family name being branded into the name of our plumbing company. This motivates us to provide excellent customer service, and go the extra mile for our customers. We look at our employees and customers like they are our family, and when it comes to our employees, many actually are.
Cass Plumbing is a family owned and operated Tampa plumbing company. We are small enough to provide personalized service and handle the small plumbing jobs, while at the same time we are big enough to handle any plumbing project, including all commercial jobs.
We Thank You Tampa & wish you a very Merry Christmas, Happy Holidays & a Happy 2023! Stay safe, take care of each other, and always know if you have a plumbing problem, call Tampa's Best Plumber – Call Cass Plumbing!